Ski France
French ski areas closing dates 2022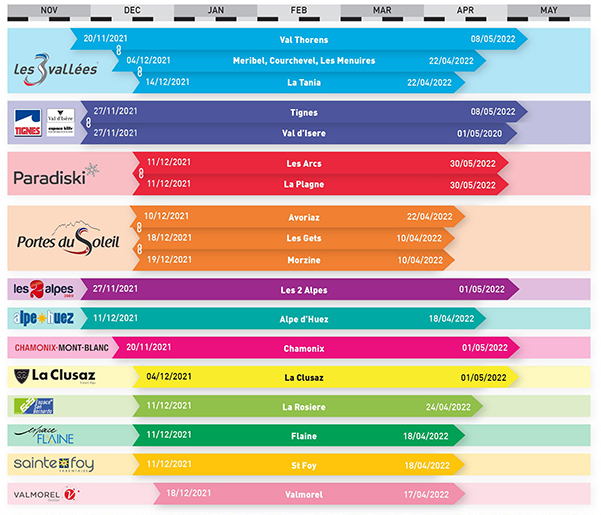 France: sammandrag av de senaste snöförhållandena
Summary of forecast snowfall and ski conditions for resorts in France. Fresh snow is forecast at 0 resorts. Powder is reported at 0 resorts and 13 are reporting good piste conditions.
Nya Eyeball rapporter för France
Väderradarobservation:

Light snow is falling on the slopes above Val Thorens.

Väderradarobservation:

Snow falling heavily above La Plagne.
Ski resorts in France from S to Z
Skidanläggning

Snö djup
toppen och botten

On-pist

off-pist

Sista snön

nästa 9 dagar
0–3 | 3–6 | 6–9
snö (

cm

)
Nästa 5 dagar väder prognos
Frysningspunkt (

m

)
Tue
Wed
Thu
Fri
Sat

Saint -Jean D'arves

(1600 m — 2265 m)

snow report idag

Mittstationen

1932

m

3000

 

m

2850

 

m

3400

 

m

3450

 

m

3600

 

m

Saint -Jean D'aulps

(950 m — 1800 m)

snow report för29 dagar sedan

Mittstationen

1375

m

2650

 

m

2700

 

m

3400

 

m

3450

 

m

3200

 

m

Saint -Jean de Sixt

(960 m — 960 m)

snow report idag

Mittstationen

960

m

2800

 

m

2750

 

m

3450

 

m

3500

 

m

3350

 

m

Saint Colomban Des Villards

(1100 m — 2431 m)

snow report idag

Mittstationen

1766

m

2950

 

m

2850

 

m

3450

 

m

3400

 

m

3600

 

m

Saint François Longchamp

(1650 m — 2550 m)

snow report idag

Mittstationen

2100

m

2900

 

m

2900

 

m

3450

 

m

3450

 

m

3500

 

m

Saint Gervais

(1400 m — 2350 m)

snow report idag

Mittstationen

1875

m

2850

 

m

2800

 

m

3450

 

m

3450

 

m

3200

 

m

Saint Hilaire

(1000 m — 1450 m)

snow report idag

Mittstationen

1225

m

2800

 

m

2850

 

m

3450

 

m

3450

 

m

3600

 

m

Saint Jean Montclar

(1350 m — 2500 m)

snow report idag

Mittstationen

1925

m

3150

 

m

3050

 

m

3500

 

m

3500

 

m

3750

 

m

Saint Lary Soulan

(1701 m — 2450 m)

snow report idag

opens in 194 days

2

cm




för20 dagar sedan

Mittstationen

2076

m

1950

 

m

1900

 

m

2650

 

m

3350

 

m

3800

 

m

Saint Léger Les Mélèzes

(1250 m — 2001 m)

snow report idag

Mittstationen

1626

m

3050

 

m

3000

 

m

3450

 

m

3550

 

m

3750

 

m

Saint Maurice Sur Moselle

(900 m — 1250 m)

snow report idag

Mittstationen

1075

m

2200

 

m

2300

 

m

3150

 

m

3100

 

m

2200

 

m

Saint Michel de Chaillol - La Lozière

(1450 m — 2000 m)

snow report idag

Mittstationen

1725

m

3050

 

m

2950

 

m

3500

 

m

3550

 

m

3800

 

m

Saint Pierre De Chartreuse

(900 m — 1789 m)

Mittstationen

1344

m

2750

 

m

2850

 

m

3450

 

m

3500

 

m

3600

 

m

Saint-Jean d'Aulps La Grande Terche

(950 m — 1773 m)

snow report för29 dagar sedan

Mittstationen

1362

m

2650

 

m

2700

 

m

3400

 

m

3450

 

m

3200

 

m

Saint-Paul-Sur-Ubaye

(1400 m — 1600 m)

snow report idag

Mittstationen

1500

m

3250

 

m

2950

 

m

3500

 

m

3500

 

m

3600

 

m

Saint-Sorlin d'Arves (Les Sybelles)

(1500 m — 2619 m)

snow report idag

Mittstationen

2060

m

3000

 

m

2850

 

m

3400

 

m

3450

 

m

3600

 

m

Sainte Anne La Condamine

(1831 m — 2401 m)

snow report för17 dagar sedan

Mittstationen

2116

m

3250

 

m

3000

 

m

3500

 

m

3500

 

m

3650

 

m

Sainte Foy

(1545 m — 2620 m)

snow report idag

opens in 194 days

9

cm




för17 dagar sedan

Mittstationen

2082

m

3050

 

m

2950

 

m

3500

 

m

3450

 

m

3250

 

m

Samoens

(818 m — 2120 m)

snow report för28 dagar sedan

Mittstationen

1469

m

2750

 

m

2750

 

m

3450

 

m

3450

 

m

3250

 

m

Sardieres-Sollieres

(1300 m — 1600 m)

snow report idag

Mittstationen

1450

m

3150

 

m

2900

 

m

3450

 

m

3450

 

m

3400

 

m

Sauze Super-Sauze

(1400 m — 2400 m)

snow report idag

opens in 201 days

26

cm




för29 dagar sedan

Mittstationen

1900

m

3250

 

m

3000

 

m

3450

 

m

3500

 

m

3650

 

m

Savoie Grand Revard

(1262 m — 1582 m)

snow report för29 dagar sedan

Mittstationen

1422

m

2700

 

m

2800

 

m

3450

 

m

3500

 

m

3400

 

m

Schnepfenried

(1070 m — 1250 m)

snow report idag

Mittstationen

1160

m

2250

 

m

2300

 

m

3150

 

m

3150

 

m

2050

 

m

Serre Chevalier

(1200 m — 2800 m)

snow report idag

opens in 201 days

5

cm




för17 dagar sedan

Mittstationen

2000

m

3150

 

m

2950

 

m

3500

 

m

3500

 

m

3650

 

m

Seyne Les Alpes

(1300 m — 1800 m)

snow report idag

Mittstationen

1550

m

3150

 

m

3050

 

m

3500

 

m

3500

 

m

3750

 

m

Seythenex

(1151 m — 1851 m)

snow report för28 dagar sedan

Mittstationen

1501

m

2800

 

m

2800

 

m

3450

 

m

3450

 

m

3400

 

m

Sixt

(800 m — 1600 m)

snow report idag

Mittstationen

1200

m

2800

 

m

2750

 

m

3450

 

m

3450

 

m

3200

 

m

Soleilhas - Vauplane

(1600 m — 1900 m)

snow report idag

Mittstationen

1750

m

3300

 

m

3200

 

m

3350

 

m

3300

 

m

3650

 

m

St Andeol

(1000 m — 1150 m)

Mittstationen

1075

m

2850

 

m

2800

 

m

3400

 

m

3600

 

m

3800

 

m

St Martin de Belleville

(1402 m — 2850 m)

snow report idag

Mittstationen

2126

m

3000

 

m

2900

 

m

3450

 

m

3400

 

m

3400

 

m

Superbagneres

(1440 m — 2261 m)

snow report idag

opens in 194 days

1

cm




för17 dagar sedan

Mittstationen

1850

m

1900

 

m

1850

 

m

2550

 

m

3300

 

m

3750

 

m

Thollon les Mémises

(1000 m — 1999 m)

snow report idag

opens in 208 days

4

cm




för29 dagar sedan

Mittstationen

1500

m

2600

 

m

2600

 

m

3400

 

m

3400

 

m

3150

 

m

Tignes

(1556 m — 3456 m)

snow report idag

opens in 19 days

10

cm




för15 dagar sedan

Mittstationen

2506

m

3050

 

m

2950

 

m

3450

 

m

3500

 

m

3300

 

m

Val Cenis

(1400 m — 2801 m)

snow report idag

opens in 201 days

14

cm




för17 dagar sedan

Mittstationen

2100

m

3150

 

m

2900

 

m

3400

 

m

3450

 

m

3400

 

m

Val d'Isere

(1850 m — 3550 m)

snow report idag

Mittstationen

2700

m

3100

 

m

2950

 

m

3450

 

m

3450

 

m

3300

 

m

Val d'Allos 1500 Le Seignus

(1500 m — 2400 m)

snow report för19 dagar sedan

Mittstationen

1950

m

3250

 

m

3050

 

m

3450

 

m

3450

 

m

3600

 

m

Val d'Allos – La Foux (Espace Lumière)

(1800 m — 2601 m)

snow report idag

Mittstationen

2200

m

3250

 

m

3050

 

m

3450

 

m

3450

 

m

3650

 

m

Val Louron

(1450 m — 2100 m)

snow report idag

Mittstationen

1775

m

1950

 

m

1850

 

m

2650

 

m

3350

 

m

3800

 

m

Val Thorens

(2300 m — 3230 m)

snow report idag

Mittstationen

2765

m

3100

 

m

2900

 

m

3450

 

m

3450

 

m

3450

 

m

Valberg

(1650 m — 2066 m)

snow report idag

opens in 201 days

24

cm




för29 dagar sedan

Mittstationen

1858

m

3300

 

m

3100

 

m

3400

 

m

3400

 

m

3650

 

m

Valdrome

(1301 m — 1731 m)

snow report idag

Mittstationen

1516

m

2950

 

m

3000

 

m

3350

 

m

3500

 

m

4000

 

m

Valfrejus

(1550 m — 2737 m)

snow report idag

Mittstationen

2144

m

3150

 

m

2900

 

m

3450

 

m

3450

 

m

3500

 

m

Valloire

(1430 m — 2601 m)

snow report idag

Mittstationen

2016

m

3050

 

m

2900

 

m

3450

 

m

3450

 

m

3550

 

m

Vallorcine

(1260 m — 2270 m)

snow report idag

opens in 208 days

2

cm




för18 dagar sedan

Mittstationen

1765

m

2850

 

m

2800

 

m

3450

 

m

3450

 

m

3050

 

m

Valmeinier

(1500 m — 2600 m)

snow report idag

opens in 194 days

11

cm




för17 dagar sedan

Mittstationen

2050

m

3050

 

m

2900

 

m

3500

 

m

3450

 

m

3550

 

m

Valmorel

(1250 m — 2550 m)

snow report idag

opens in 208 days

10

cm




för17 dagar sedan

Mittstationen

1900

m

2950

 

m

2900

 

m

3450

 

m

3400

 

m

3450

 

m

Vars

(1861 m — 2766 m)

snow report idag

Mittstationen

2314

m

3200

 

m

3000

 

m

3500

 

m

3500

 

m

3650

 

m

Vaujany

(1101 m — 2801 m)

snow report idag

Mittstationen

1951

m

2950

 

m

2900

 

m

3450

 

m

3400

 

m

3700

 

m

Ventron

(870 m — 1110 m)

snow report idag

Mittstationen

990

m

2200

 

m

2300

 

m

3150

 

m

3150

 

m

2150

 

m

Villard-de-Lans

(1050 m — 2171 m)

snow report idag

opens in 194 days

8

cm




för29 dagar sedan

Mittstationen

1610

m

2800

 

m

2800

 

m

3400

 

m

3600

 

m

3750

 

m

Villard-Reculas

(1450 m — 3351 m)

snow report idag

Mittstationen

2400

m

3000

 

m

2850

 

m

3450

 

m

3500

 

m

3850

 

m

Villaroger

(1199 m — 3226 m)

snow report för15 dagar sedan

Mittstationen

2212

m

3050

 

m

2950

 

m

3500

 

m

3450

 

m

3250

 

m

Xonrupt Longemer (Le Poli)

(735 m — 1070 m)

snow report idag

Mittstationen

902

m

2200

 

m

2250

 

m

3150

 

m

3100

 

m

2000

 

m