Ski France
French ski areas closing dates 2022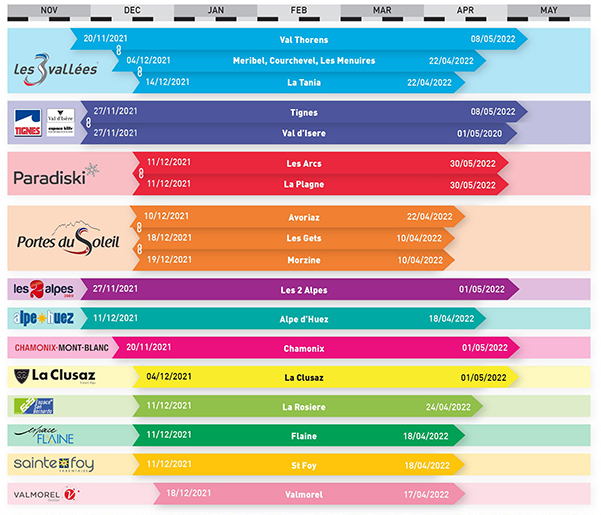 France: sammandrag av de senaste snöförhållandena
Summary of forecast snowfall and ski conditions for resorts in France. Fresh snow is forecast at 0 resorts. Powder is reported at 0 resorts and 13 are reporting good piste conditions.
Nya Eyeball rapporter för France
Väderradarobservation:

Snowing heavily on the slopes above Bonneval sur Arc.

Väderradarobservation:

There is heavy snow falling above Argentiere.
Ski resorts in France from C to K
Skidanläggning

Snö djup
toppen och botten

On-pist

off-pist

Sista snön

nästa 9 dagar
0–3 | 3–6 | 6–9
snö (

cm

)
Nästa 5 dagar väder prognos
Frysningspunkt (

m

)
Fri
Sat
Sun
Mon
Tue

Camurac

(1301 m — 1781 m)

snow report igår

Mittstationen

1541

m

4300

 

m

4350

 

m

4200

 

m

3650

 

m

2800

 

m

Cauterets

(1400 m — 2501 m)

snow report igår

opens in 197 days

3

cm




för17 dagar sedan

Mittstationen

1950

m

4250

 

m

4350

 

m

4000

 

m

3500

 

m

2650

 

m

Ceillac en Queyras

(1650 m — 2501 m)

snow report igår

Mittstationen

2076

m

3850

 

m

4000

 

m

4100

 

m

3700

 

m

3400

 

m

Ceuze Gap

(1530 m — 2001 m)

snow report igår

Mittstationen

1766

m

3950

 

m

4100

 

m

4200

 

m

3700

 

m

3300

 

m

Chabanon

(1500 m — 2050 m)

snow report igår

Mittstationen

1775

m

3950

 

m

4100

 

m

4200

 

m

3700

 

m

3400

 

m

Chaillol 1600

(1450 m — 2001 m)

snow report igår

Mittstationen

1726

m

3950

 

m

4050

 

m

4150

 

m

3650

 

m

3350

 

m

Chalmazel

(1100 m — 1600 m)

snow report igår

Mittstationen

1350

m

4000

 

m

3950

 

m

3800

 

m

3350

 

m

2500

 

m

Chamonix

(1037 m — 3842 m)

snow report igår

Mittstationen

2440

m

3900

 

m

3750

 

m

4000

 

m

3600

 

m

3000

 

m

Champagny

(1372 m — 3200 m)

snow report igår

Mittstationen

2286

m

3950

 

m

3800

 

m

3850

 

m

3700

 

m

3100

 

m

Chamrousse

(1400 m — 2256 m)

snow report igår

opens in 197 days

7

cm




för15 dagar sedan

Mittstationen

1828

m

4000

 

m

3950

 

m

4100

 

m

3600

 

m

3000

 

m

Chastreix-Sancy

(1000 m — 1500 m)

Mittstationen

1250

m

3950

 

m

4000

 

m

3700

 

m

3250

 

m

2400

 

m

Chatel

(1201 m — 2201 m)

snow report igår

Mittstationen

1701

m

3900

 

m

3650

 

m

3950

 

m

3450

 

m

2950

 

m

Col d' Ornon

(1351 m — 2001 m)

snow report för25 dagar sedan

Mittstationen

1676

m

3950

 

m

3950

 

m

4150

 

m

3600

 

m

3100

 

m

Col De L'arzelier

(1154 m — 1500 m)

snow report igår

Mittstationen

1327

m

4000

 

m

4000

 

m

4200

 

m

3600

 

m

2900

 

m

Col de Marcieu

(1000 m — 1400 m)

Mittstationen

1200

m

3950

 

m

3900

 

m

4000

 

m

3550

 

m

2950

 

m

Col de Porte

(1203 m — 1325 m)

snow report igår

Mittstationen

1264

m

4000

 

m

3950

 

m

4000

 

m

3550

 

m

2950

 

m

Col de Rousset

(1255 m — 1700 m)

snow report för26 dagar sedan

Mittstationen

1478

m

4000

 

m

4050

 

m

4200

 

m

3600

 

m

3100

 

m

Combloux

(1200 m — 1930 m)

snow report igår

Mittstationen

1565

m

3950

 

m

3700

 

m

4000

 

m

3500

 

m

3000

 

m

Cordon

(1050 m — 1600 m)

snow report igår

opens in 211 days

8

cm




för26 dagar sedan

Mittstationen

1325

m

3950

 

m

3700

 

m

4000

 

m

3500

 

m

3000

 

m

Correncon en Vercors

(1160 m — 2171 m)

snow report för26 dagar sedan

Mittstationen

1666

m

4000

 

m

4000

 

m

4200

 

m

3600

 

m

2900

 

m

Courchevel

(1338 m — 2738 m)

snow report igår

Mittstationen

2038

m

3950

 

m

3800

 

m

3850

 

m

3650

 

m

3150

 

m

Crest -Voland Cohennoz

(1230 m — 2069 m)

snow report igår

Mittstationen

1650

m

3900

 

m

3750

 

m

3950

 

m

3500

 

m

3100

 

m

Crevoux

(1600 m — 2550 m)

snow report igår

Mittstationen

2075

m

3900

 

m

4050

 

m

4150

 

m

3700

 

m

3400

 

m

Croix de Bauzon

(1250 m — 1511 m)

snow report igår

Mittstationen

1380

m

4100

 

m

4150

 

m

4250

 

m

3400

 

m

2950

 

m

Dévoluy

(1500 m — 2500 m)

snow report igår

opens in 204 days

8

cm




för15 dagar sedan

Mittstationen

2000

m

3950

 

m

4100

 

m

4200

 

m

3650

 

m

3250

 

m

Drouzin Le Mont

(1151 m — 1650 m)

snow report för26 dagar sedan

Mittstationen

1400

m

3900

 

m

3650

 

m

3950

 

m

3400

 

m

2900

 

m

Espace Cambre d'Aze (Eyne 2600)

(1841 m — 2450 m)

snow report för17 dagar sedan

Mittstationen

2146

m

4250

 

m

4350

 

m

4200

 

m

3700

 

m

3200

 

m

Espace Roc d'enfer

(734 m — 1800 m)

snow report igår

Mittstationen

1267

m

3900

 

m

3700

 

m

4000

 

m

3400

 

m

2900

 

m

Flaine

(1585 m — 2500 m)

snow report igår

Mittstationen

2042

m

3900

 

m

3700

 

m

4000

 

m

3500

 

m

2950

 

m

Flumet - Saint Nicolas La Chapelle

(1000 m — 2071 m)

snow report igår

opens in 211 days

14

cm




för25 dagar sedan

Mittstationen

1536

m

3900

 

m

3750

 

m

3950

 

m

3500

 

m

3050

 

m

Foncine Le Haut

(879 m — 1274 m)

Mittstationen

1076

m

3900

 

m

3700

 

m

4000

 

m

3200

 

m

2700

 

m

Font D'urle

(1100 m — 1300 m)

snow report för26 dagar sedan

Mittstationen

1200

m

4000

 

m

4050

 

m

4200

 

m

3550

 

m

3050

 

m

Font Romeu

(1964 m — 2213 m)

snow report igår

opens in 204 days

4

cm




för17 dagar sedan

Mittstationen

2088

m

4250

 

m

4350

 

m

4200

 

m

3700

 

m

3200

 

m

Formigueres

(1750 m — 2400 m)

snow report igår

Mittstationen

2075

m

4250

 

m

4350

 

m

4200

 

m

3700

 

m

3150

 

m

Gavarnie/Gèdre

(1850 m — 2400 m)

snow report igår

opens in 211 days

6

cm




för16 dagar sedan

Mittstationen

2125

m

4200

 

m

4350

 

m

4000

 

m

3500

 

m

2800

 

m

Gérardmer

(670 m — 1150 m)

snow report igår

opens in 204 days

8

cm




för41 dagar sedan

Mittstationen

910

m

3550

 

m

3350

 

m

3800

 

m

3100

 

m

2400

 

m

Goulier Neige

(1500 m — 1850 m)

snow report igår

Mittstationen

1675

m

4250

 

m

4400

 

m

4200

 

m

3550

 

m

2700

 

m

Gourette

(1350 m — 2449 m)

snow report igår

Mittstationen

1900

m

4250

 

m

4400

 

m

4000

 

m

3450

 

m

2500

 

m

Grand Tourmalet-Bareges/La Mongie

(1250 m — 2500 m)

snow report igår

opens in 197 days

2

cm




för17 dagar sedan

Mittstationen

1875

m

4250

 

m

4400

 

m

4000

 

m

3550

 

m

2600

 

m

Gréolières Les Neiges

(1400 m — 1801 m)

snow report igår

Mittstationen

1600

m

3900

 

m

4150

 

m

4250

 

m

3900

 

m

3600

 

m

Gresse en Vercors

(1245 m — 1751 m)

snow report igår

Mittstationen

1498

m

4000

 

m

4000

 

m

4200

 

m

3600

 

m

3000

 

m

Guzet

(1100 m — 2100 m)

snow report igår

Mittstationen

1600

m

4200

 

m

4400

 

m

4200

 

m

3550

 

m

2650

 

m

Hautacam

(1500 m — 1800 m)

snow report för26 dagar sedan

Mittstationen

1650

m

4250

 

m

4400

 

m

4050

 

m

3500

 

m

2500

 

m

Hauteluce Val Joly

(1150 m — 1650 m)

snow report igår

Mittstationen

1400

m

3900

 

m

3750

 

m

3950

 

m

3550

 

m

3050

 

m

Isola 2000

(1800 m — 2610 m)

snow report igår

opens in 197 days

1

cm




för12 dagar sedan

Mittstationen

2205

m

3900

 

m

4150

 

m

4250

 

m

3850

 

m

3550

 

m