Ski Austria
Austrian ski areas closing dates 2022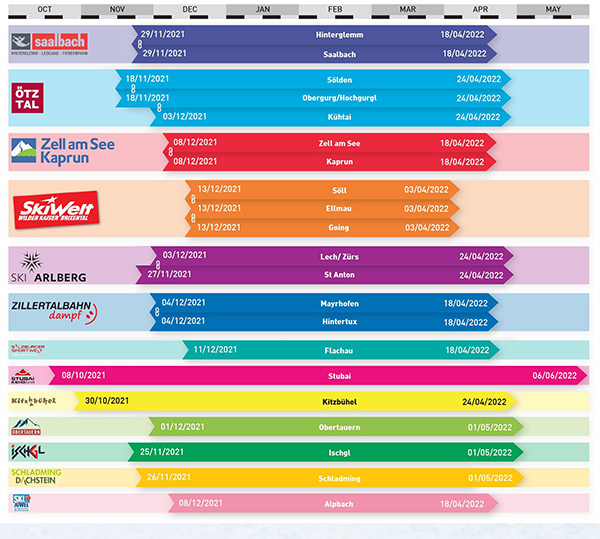 Austria: sammandrag av de senaste snöförhållandena
Summary of forecast snowfall and ski conditions for resorts in Austria. Fresh snow is forecast at 31 resorts. Powder is reported at 0 resorts and 0 are reporting good piste conditions.
Nya Eyeball rapporter för Austria
Väderradarobservation:

It is snowing lightly above Ischgl.

Snow grains reported from Zugspitze at 2960 metres elevation only 4 kms ESE of Ehrwald but it is probably falling as rain apart from near the top of the ski area

Väderradarobservation:

Snowing lightly above Obergurgl.
Ski resorts in Austria from L to M
Skidanläggning

Snö djup
toppen och botten

On-pist

off-pist

Sista snön

nästa 9 dagar
0–3 | 3–6 | 6–9
snö (

cm

)
Nästa 5 dagar väder prognos
Frysningspunkt (

m

)
Tue
Wed
Thu
Fri
Sat

Lachtal

(1600 m — 2222 m)

snow report för14 dagar sedan

Mittstationen

1911

m

2950

 

m

2950

 

m

3550

 

m

3600

 

m

3500

 

m

Lackenhof-Ötscher

(810 m — 1893 m)

snow report för19 dagar sedan

Mittstationen

1352

m

2900

 

m

2800

 

m

3550

 

m

3450

 

m

3100

 

m

Landeck-Zams-Fliess

(780 m — 2212 m)

snow report för21 dagar sedan

opens in 201 days

3

cm




för21 dagar sedan

Mittstationen

1496

m

3050

 

m

3400

 

m

3700

 

m

3700

 

m

3600

 

m

Langenwang

(889 m — 1450 m)

snow report för19 dagar sedan

Mittstationen

1170

m

2900

 

m

2800

 

m

3500

 

m

3550

 

m

3400

 

m

Laternser Tal

(1040 m — 1785 m)

snow report för20 dagar sedan

opens in 208 days

2

cm




för20 dagar sedan

Mittstationen

1412

m

3050

 

m

3350

 

m

3700

 

m

3650

 

m

3550

 

m

Lech

(1450 m — 2450 m)

snow report för10 dagar sedan

Mittstationen

1950

m

3000

 

m

3300

 

m

3700

 

m

3700

 

m

3550

 

m

Leogang

(800 m — 1914 m)

snow report för19 dagar sedan

Mittstationen

1357

m

2900

 

m

3100

 

m

3600

 

m

3500

 

m

3500

 

m

Lermoos

(1004 m — 2118 m)

snow report för20 dagar sedan

opens in 215 days

2

cm




för20 dagar sedan

Mittstationen

1561

m

3000

 

m

3350

 

m

3650

 

m

3650

 

m

3500

 

m

Leutasch

(1100 m — 1600 m)

snow report för21 dagar sedan

Mittstationen

1350

m

3000

 

m

3300

 

m

3650

 

m

3650

 

m

3500

 

m

Lienz/Hochstein

(686 m — 1988 m)

snow report för19 dagar sedan

opens in 223 days

1

cm




för19 dagar sedan

Mittstationen

1337

m

3100

 

m

3250

 

m

3550

 

m

3750

 

m

3800

 

m

Lienz/Zettersfeld

(1660 m — 2278 m)

snow report för14 dagar sedan

opens in 215 days

4

cm




för14 dagar sedan

Mittstationen

1969

m

3100

 

m

3250

 

m

3550

 

m

3750

 

m

3800

 

m

Lienzer Dolomiten

(686 m — 2057 m)

snow report för19 dagar sedan

Mittstationen

1372

m

3100

 

m

3250

 

m

3500

 

m

3750

 

m

3800

 

m

Lofer

(640 m — 1670 m)

snow report för20 dagar sedan

opens in 215 days

6

cm




för20 dagar sedan

Mittstationen

1155

m

2900

 

m

3100

 

m

3650

 

m

3500

 

m

3400

 

m

Losenstein/Hohe Dirn

(836 m — 1185 m)

snow report för26 dagar sedan

Mittstationen

1010

m

2950

 

m

2900

 

m

3600

 

m

3550

 

m

3200

 

m

Lungötz

(777 m — 850 m)

snow report för26 dagar sedan

Mittstationen

814

m

2950

 

m

3050

 

m

3650

 

m

3600

 

m

3500

 

m

Lunz am See

(791 m — 1030 m)

snow report för26 dagar sedan

Mittstationen

910

m

2900

 

m

2800

 

m

3550

 

m

3450

 

m

3100

 

m

Mallnitz

(1200 m — 2650 m)

snow report för14 dagar sedan

opens in 215 days

10

cm




för14 dagar sedan

Mittstationen

1925

m

3050

 

m

3150

 

m

3650

 

m

3750

 

m

3800

 

m

Mandarfen/Rifflsee

(1640 m — 2800 m)

snow report för11 dagar sedan

opens in 215 days

14

cm




för11 dagar sedan

Mittstationen

2220

m

3100

 

m

3450

 

m

3700

 

m

3750

 

m

3750

 

m

Maria Neustift/Glasenberg

(780 m — 971 m)

snow report för26 dagar sedan

Mittstationen

876

m

2900

 

m

2900

 

m

3600

 

m

3550

 

m

3200

 

m

Mariazeller Land

(864 m — 1266 m)

snow report för26 dagar sedan

opens in 208 days

24

cm




för26 dagar sedan

Mittstationen

1065

m

2850

 

m

2800

 

m

3550

 

m

3500

 

m

3100

 

m

Maurach am Achensee

(981 m — 1841 m)

snow report för19 dagar sedan

opens in 215 days

3

cm




för19 dagar sedan

Mittstationen

1411

m

2950

 

m

3200

 

m

3600

 

m

3600

 

m

3450

 

m

Mautern/Elfenberg

(704 m — 1020 m)

snow report för26 dagar sedan

Mittstationen

862

m

2950

 

m

2900

 

m

3550

 

m

3550

 

m

3400

 

m

Mauterndorf

(1123 m — 2361 m)

snow report för14 dagar sedan

opens in 208 days

7

cm




för14 dagar sedan

Mittstationen

1742

m

3000

 

m

3100

 

m

3600

 

m

3700

 

m

3650

 

m

Mayrhofen

(630 m — 2500 m)

snow report för15 dagar sedan

opens in 208 days

1

cm




för15 dagar sedan

Mittstationen

1565

m

3000

 

m

3300

 

m

3700

 

m

3650

 

m

3600

 

m

Mieders/Serles

(982 m — 1770 m)

snow report för19 dagar sedan

Mittstationen

1376

m

3000

 

m

3350

 

m

3750

 

m

3650

 

m

3600

 

m

Mittersill

(1274 m — 2005 m)

snow report för15 dagar sedan

Mittstationen

1640

m

2950

 

m

3150

 

m

3750

 

m

3600

 

m

3600

 

m

Modriach/Hoislifts

(1000 m — 1230 m)

snow report för26 dagar sedan

Mittstationen

1115

m

3050

 

m

2850

 

m

3500

 

m

3650

 

m

3650

 

m

Mölltaler Gletscher

(2286 m — 2956 m)

snow report för6 dagar sedan

Mittstationen

2621

m

3050

 

m

3150

 

m

3650

 

m

3750

 

m

3750

 

m

Mönichkirchen-Mariensee

(870 m — 1449 m)

snow report för26 dagar sedan

opens in 206 days

16

cm




för26 dagar sedan

Mittstationen

1160

m

3000

 

m

2750

 

m

3500

 

m

3600

 

m

3450

 

m

Mönichwald

(1000 m — 1300 m)

snow report för26 dagar sedan

Mittstationen

1150

m

3000

 

m

2800

 

m

3500

 

m

3600

 

m

3450

 

m

Montafon

(1000 m — 2300 m)

snow report för16 dagar sedan

opens in 180 days

4

cm




för16 dagar sedan

Mittstationen

1650

m

3000

 

m

3350

 

m

3750

 

m

3750

 

m

3650

 

m

Muhlbach am Hochkonig

(920 m — 1820 m)

snow report för19 dagar sedan

Mittstationen

1370

m

2950

 

m

3200

 

m

3700

 

m

3600

 

m

3600

 

m

Murau/Frauenalpe

(1500 m — 2000 m)

snow report för14 dagar sedan

Mittstationen

1750

m

3000

 

m

3000

 

m

3550

 

m

3650

 

m

3550

 

m

Murau/Kreischberg

(889 m — 2108 m)

snow report för19 dagar sedan

Mittstationen

1498

m

3000

 

m

3050

 

m

3550

 

m

3650

 

m

3550

 

m

Mürzsteg/Niederalpl

(783 m — 1460 m)

snow report för26 dagar sedan

opens in 206 days

23

cm




för26 dagar sedan

Mittstationen

1122

m

2900

 

m

2800

 

m

3550

 

m

3550

 

m

3250

 

m

Muttereralm

(950 m — 1800 m)

snow report för19 dagar sedan

opens in 208 days

7

cm




för19 dagar sedan

Mittstationen

1375

m

2950

 

m

3300

 

m

3750

 

m

3650

 

m

3550

 

m