Snööversikt från hela Världen
Vi har skapat den här sidan för att hjälpa dig hitta de bästa snöförhållandena. Den kombinerar tidigare, nuvarande och framtida datakällor från Snow-Forecast.com och uppdateras regelbundet. Snow Roundup -sidan uppdateras på måndagar och torsdagar. Detta för alla större skidorter. Live Ögonsten snöuppdateringar visas i realtid när de skickas via twitter av vårt globala nätverk med reportrar. Val av Skidorter listar skidorter från hela världen där ny snö förväntas, och varifrån det rapporteras om pudersnö och senaste snödjup.
SNOW NEWS UPDATED 6 JUNE 2023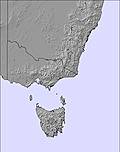 INTRODUCTION The southern hemisphere's 2023 ski season is expected to start this coming weekend with ski areas in Australia and New Zealand scheduled to open. Mother nature has been playing her part with fresh snowfall reported in the Andes and New Zealand this week, among other areas, so hopefully, there'll be enough for the first centres to open by Friday. Australia has been having a less promising period of warmer temperatures after its frequent May snow showers but things are still forecast to come good again for the upcoming opening weekend with colder temperatures and snow forecast.
AUSTRALIA REPORT It's the start of Australia's 2023 ski season this coming weekend - a long one to celebrate King Charles III's birthday, with next Monday a public holiday in most Australian states. The good news is the country saw several good pre-season snowfalls in May and low temperatures for snowmaking. The bad news is that a spell of warm, sometimes wet weather ushered in June and it's not clear how much, if any, of that May snow survives. Cam images from the past 24 hours show slopes back to green, although with patches of machine-made snow. Things are looking up with significant snow expected to return, along with older temperatures, just in time for the planned season start. But again there's a 'but' …which is that it's not looking like it'll be as cold as hoped a week ago. So currently it looks like there'll be some skiing but not a lot this weekend. In the longer term, meteorologists are split as to how the 2023 season will play out, warning that a likely El Niño could be bad news - keeping things warm and wet. Or perhaps not… One good thing to celebrate is the reopening of Selwyn Resort this weekend, for the first time since winter 2019, even if there'll be no skiing initially. The resort was destroyed by bushfires in January 2020 but has been rebuilt over the years since. It was due to reopen last year but heavy, early snowfalls stopped the last bit of work being completed in time.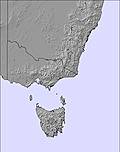 AUSTRALIA FORECAST The forecast is definitely looking better for the coming week than the past 10 days or so. Temperatures should get down to -5 to -8C overnight and although daytime highs will get to similar numbers on the positive side of the temperature gauge, it should allow more overnight snowmaking than can thaw away. Lights now showers are possible Thursday/Friday too, otherwise mostly clear.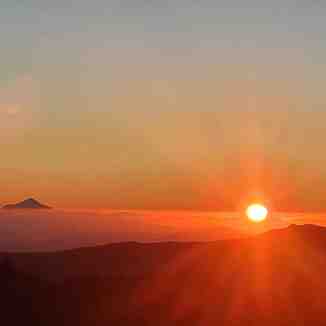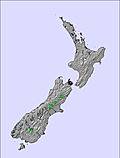 NEW ZEALAND REPORT New Zealand's Mt Hutt could be the first area open in the southern hemisphere, this coming Friday, 9th May and the good news is that after a rather mild end to May, the weather has turned much colder in New Zealand with snowfall reported across the South Island over the last week. "That's more like it" Mt Hutt posted on Sunday after a 10cm (4") snowfall to start the week. Coronet Peak, where the season start is scheduled for the weekend after next, reported 25cm (10"). In media coverage of the snowfall, Mt Hutt staff said they had hoped for more snow - long-range forecasts a week prior had pointed up to a metre (40"), and they began dampening expectations of a weekend opening say the 9th was an aspiration rather than a firm date and pointing out that last winter the season start was 1-0 days after the target date. Mt Hutt may be the only NZ ski area open this weekend, if it manages to, with Coronet Peak, The Remarkables and Cardrona targeting the 16th/17th, a week later.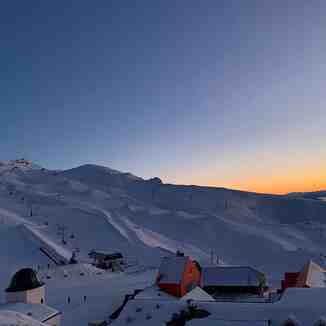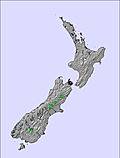 NEW ZEALAND FORECAST Unfortunately, after the Sunday snowfall, skies have cleared once more and it's a largely sunny forecast for the coming week. Temperatures will dip below freezing on high slopes some nights but mostly it's a +2 to +8C temperature range on the south Island, a little cooler on North Island slopes, so looking a little borderline on what may be able to open.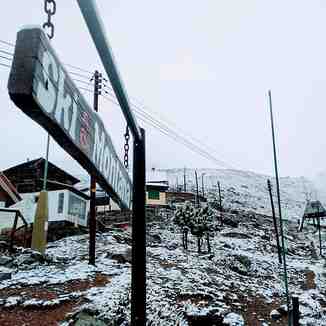 ARGENTINA REPORT After the big snowfalls just over a week ago Argentinian ski areas have seen more snow and low temperatures as we near the start of the 2023 ski season. Catedral near Bariloche is a centre that could potentially open some terrain this weekend, although nothing is confirmed. Las Lenas, further south, which has reported the most pre-season snowfall, is aiming for the weekend after next.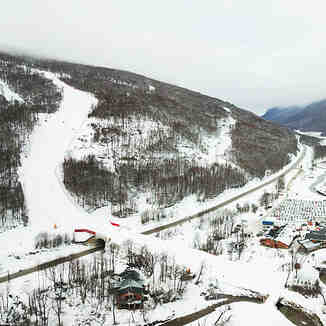 ARGENTINA FORECAST Staying cold with temperatures as low as -10C overnight. Getting up to +5 in northerly areas but staying below freezing in the daytime too at southerly areas like Cerro Castor. Some light snow showers are forecast along with spells of sunny weather but all looking promising for the season starts at present.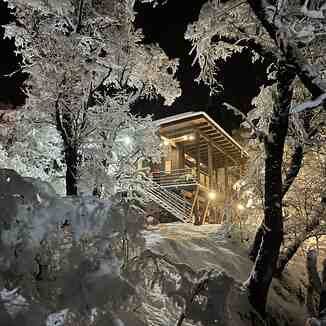 CHILE REPORT There's been some fresh snowfall and low temperatures reported across Chile as the start of the ski season looms near. It's unclear if any centres will open this weekend, La P:arva is believed to be a possibility according to some sources, but nowhere is known to have declared an opening date this soon yet.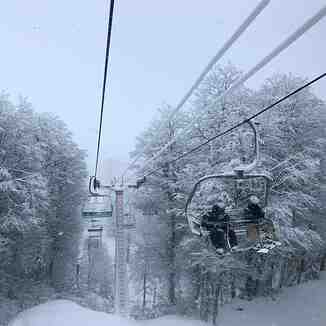 CHILE FORECAST Staying cool in the mountains, temperatures typically in the -10 to +5C range on ski slopes. A lot of sunshine forecast in the north but some sunshine. Further south Nevados de Chillan looks to be on the firing line for some significant snowfall over the coming week.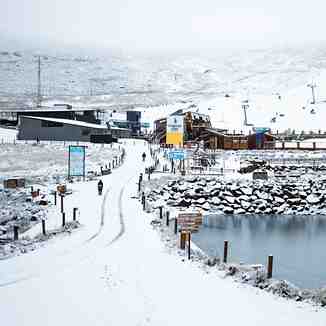 SOUTHERN AFRICA REPORT There's been more snowfall in southern Africa with Lesotho's Afriski reporting its access road closed by snowfall just before the weekend. If it were a normal year Lesotho, and back in the pre-pandemic era, South Africa's Tiffindell too, would be open for the new season by now, normally among the first in the southern hemisphere (often the first) to open. But sadly there's no sign at present that Tiffindell, closed for snow sports since 2019, will re-open and Afriski has said it won't be making snow or running its lifts this winter though it'll be open for snow play when there's natural snow cover.
SOUTHERN AFRICA FORECAST Mostly sunny weather with overnight lows getting down to -5C, so good for snowmaking if it were to be turned on. Daytime highs in the +5 to +10C range. Mostly non-stop sunshine with the outside chance of light precipitation towards the end of the week. Northern Hemisphere

EUROPE INTRO We are down to seven glacier ski areas open in five countries in Europe - greatly outnumbered by the continent's 30 or so indoor snow centres. There's one each for the main four Alpine nations of Austria, France and Switzerland with Passo Stelvio the latest to re-open last weekend bringing an open ski area back to Italy. Norway has both the most ski centres open (three) and is posting the world's deepest snowpack - 5m/200" - at its Galdhopiggen ski area. There's been plenty of sunshine in the last week but also some late evening or overnight snow showers as temperatures have dipped below freezing on glaciers. Three more centres are due to reopen for summer skiing later this month so we may get back close to double figures by the start of July.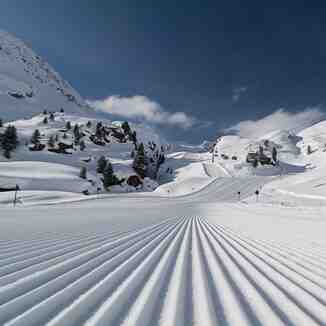 AUSTRIA REPORT Austria usually has more ski areas open than any other country for much of the year - particularly noticeable from May to November, but with all but Hintertux (0/315cm / 0/126") currently closed, it's on equal footing with other countries in the Alps this week at least. The 24 km (15 miles) of slopes and snow depth stats do top the short list of open areas at present though. The weather has been mostly sunny with some light snow showers overnight when temperatures have continued to drop below freezing. In the afternoons though valley temperatures are in the +20s Celsius.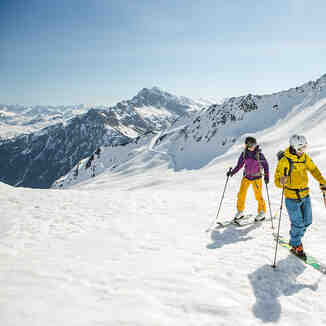 AUSTRIA FORECAST An increasingly sunny picture for Hintertux with overnight lows on the glacier -2C but rising to +6C in the afternoon.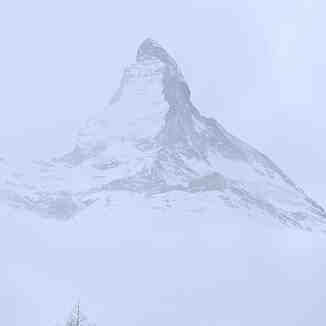 SWITZERLAND REPORT Europe's highest ski slopes, above Zermatt (0/200cm / 0/80") remain open daily, with 12km (7 miles) of lift-served terrain currently accessible, served by 10 lifts. Temperatures have been in the -7 to +2C range on the glacier through the 24-hour cycle with some light snow showers reported overnight.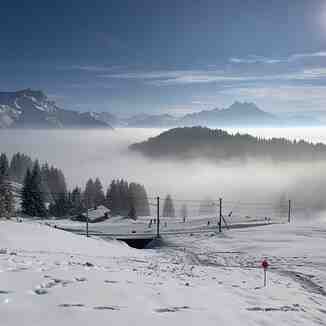 SWITZERLAND FORECAST Increasingly dry and sunny for the remainder of this week with temperatures remaining in the -3C to freezing range on glaciers but hitting +20C down in the resort in the afternoon.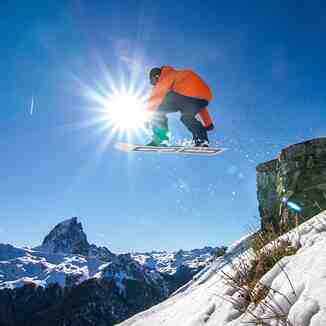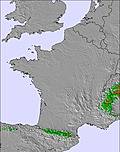 FRANCE REPORT Les 2 Alpes remains the only ski area currently open in the French Alps but Val d'Isere is due to open for a short summer ski season this weekend and Tignes, the weekend after. Tignes was posting the deepest base in Europe through much of last winter and spring at around 4 metres when it closed at the end of its 22-23 season a month ago, so it will be interesting to see how much of the snowpack has gone (Or potentially even increased with the cold snowy May) since then. Les 2 Alpes does not seem to be offering as extensive summer ski and boarding slopes as in the previous year but a boardercross course and a terrain park are reported to be part of the 2023 summer offer.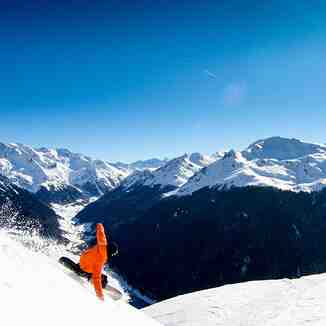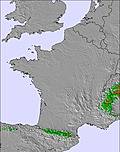 FRANCE FORECAST Although afternoon temperatures will hit +20C down at the lower part of the winter ski area this week, up on the glacier it's a more snow-friendly -5 through to +2C through the 24-hour cycle. Light snow showers are possible almost any evening through the week.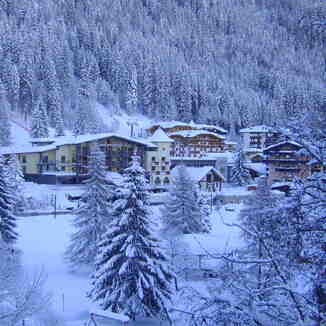 ITALY REPORT You can access lift-served skiing again in Italy after Passo Stelvio (30/130cm / 12/52") re-opened at the start of its 2023 season at the weekend, scheduled to run for five months to 5 November 2023. The centre, particularly popular for ski team race training, opens when road crews clear the high pass of snow. The pass is also a key part of the Giro d'Italia cycle race so along with skiers and boarders on the snow there are lots of serious cyclists tackling the hairpins on the road up and down from the pass, one of Europe's highest, too. It's one of the few remaining summer-only ski areas in the world along with the three Norwegian glaciers, Japan's Gassan and Beartooth Basin in Wyoming, USA - all currently open. The centre reports all slopes are currently open. Cervinia will re-open its lift access to the glacier area it shares with neighbouring Zermatt later this month.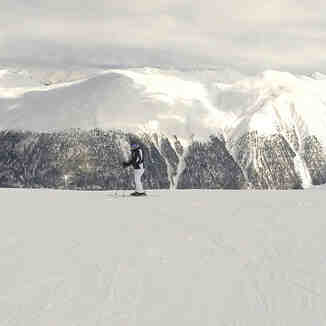 ITALY FORECAST Mostly sunny with temperatures as low as -10C overnight on higher slopes, but as warm as +10C at lower levels in the afternoon. Light snow showers are possible at night bringing 2-5cm (1-2") most nights but a heavier fall is possible around Wednesday/Thursday.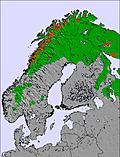 SCANDINAVIA REPORT With Sweden's Riksgransen now closed (until it reopens for Midsummer skiing later this month in just over a fortnight's time), it's a choice of Norway's three glacier ski areas for early summer skiing in Scandinavia. All three are still fully open and although base depths have been dropping the region's highest area of Galdhøpiggen (200/500 cm / 80/200") continues to post the deepest base in the world at the top of its runs. Stryn (290/300cm / 116/20") had a sunny weekend and staged an 80s-themed weekend including the annual Norwegian National Monoski Championships. It continues to offer a cat skiing service as well as its lift-served terrain. Fonna (200/400cm / 80/160") is the other currently open ski area.
SCANDINAVIA FORECAST Continuing sunny with overnight lows still dipping a degree or two below freezing but with highs of 7-8 degrees at night and in the daytime as much as +15C in the afternoons. So the thaw continues.

USA REPORT June started with five ski areas still open in the US. We've lost one but four remain the most open of any country in the world at present. Australia should take the top spot for the number of areas open from Saturday when the season starts there, but for now, it's the US. It's been quite a week too. Colorado's season officially ended, assuming you don't count the terrain park open to campers at the Woodward facility at Copper Mountain, on Sunday when Arapahoe Basin called it a day after a more than 7-month long 22-23 ski season. But there was drama with snowfall arriving on Friday to give fresh snowfall for the final few days (if not quite enough in volume or light fluffiness to describe as a June powder weekend). Unfortunately, it was only snowfall above about 11,000 feet and further north, the Beartooth Basin summer ski area which re-opened for the first time in two years just a week ago on the Montana/Wyoming border was forced to close due to heavy rain and low visibility making conditions a bit miserable. It's re-opened since though and is one of the four current options. It wasn't just A Basin open for the last time in 2023 open at the weekend though. Tyrol Basin in Wisconsin used an intentionally-preserved pile of snow to reopen on Saturday, June 3rd, for a one-off snow day via a rope tow-served terrain park for skiing and boarding in the summer sun. Then there were the three other areas that are supposed to be open through June. California's Mammoth Mountain (136/188" / 340/469cm) and The Palisades (0/152" / 0/380cm) remain open although with more limited terrain (Palisades is just open on its Alpine side now), and lots of spring sun themed events on the go now. It has been mostly sunny with temperatures getting into the 60s and 70s in the afternoon, although still close to freeing overnight on higher slopes Timberline (18/68" / 45/170cm) in Oregon continues to operate its palmer snowfield although snow depths are dropping fast in the summer heat. Although we are down to four ski areas currently open in the US it's worth noting the number open is actually due to go up, rather than down, with Utah's Snowbird, which operated until the last weekend in May, planning to re-open from mid-June with its new tram cabins sporting their outdoor 'balcony' attachments so skiers and boarders will have the option to ride on the outside of the cabins if they so wish.

USA FORECAST Warm weather continuing (well it is meteorological summertime…) although overnight lows on the highest slopes still getting to freezing with an outside chance of snow showers. Daytime highs are in the 50s though, even at altitude, 60s-80s down at resort level.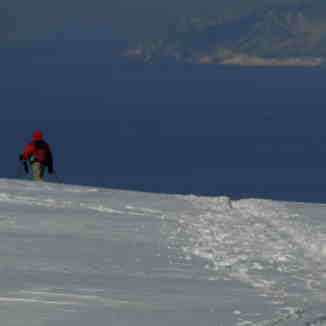 JAPAN REPORT Japan's sole summer ski destination, Gassan (40/200cm / 16/80 inches) remains open and reports all three lifts and 10km (6 miles) of runs operational and skiable, although as things warm up the snowpack is getting wetter as its thaws so an early start means seeing the best conditions.

JAPAN FORECAST Overnight lows are now in the +4 to +8C even on higher slopes which means it's thawing around the clock. Plenty of sunshine though and daytime highs around +13 to +17C. Looking wetter to end the week.