World Snow Overview
We've created this page to help you find the best snow conditions. It combines past, present and future data sources from around Snow-Forecast.com and updates regularly. The Snow Roundup page is updated on Mondays and Thursdays for all major ski resorts. Live Eyeball snow updates are shown in real time when submitted via twitter by our global network of reporters. Resort Picks lists ski resorts from around the world where new snow is forecast, powder is reported and latest snow depths.

SNOW ALERT

INTRODUCTION Varying quantities of new snow fell over Europe this past weekend, with more southerly and eastern resorts seeing light dustings typically of between 5-10cm, while resorts in the North West saw substantially higher snowfall up to 50cm. Expect to find continuing excellent skiing in the norther French Alps in particular, alongside busy slopes due to school holidays. Monday saw dropping temperatures and predominantly clearer skies before a new weather system delivered more snow arriving Tuesday.
AUSTRIA Sunday brought snow across a number of resorts in Austria, though for the most part only modest accumulations. Recorded amounts include 5cm for the Ski Juwel region (65/200cm), 10cm Dorfgastein (95/220cm). Higher amounts fell over the glacier resorts. 15cm on Kaprun (140/320cm), and highest total recorded on the summit of Solden (25/337cm). This will add to last Thursday's snowfall, with pistes staying in great shape generally during peak weeks of school holiday. Monday's skies showed no signs of the clouds that delivered snow the previous day, with only light clouds in the sky for the majority of resorts. In those cases, it is predominantly sitting in the valleys, with clear skies at higher elevations. Temperatures are generally towards the mild end of the spectrum, hovering only a few degrees below freezing level. Tuesday looks to bring a new period of cloud cover as a storm develops over the East of the country primarily. Currently, this is expected to bring only light snowfall, coming down more heavily over those resorts in Salzburg and Cartinthia.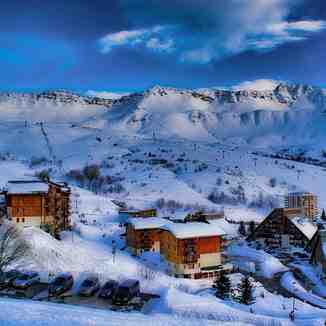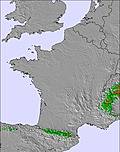 FRANCE There has been plenty of snow over the weekend and even some in the early hours of Monday morning in our featured French Alp resorts. The resorts of Chamonix (100cm/405cm) and Argentiere (100cm/405cm) recorded 60cm of fresh snow which has left the slopes looking in fantastic shape, and which is further complimented by the sunny weather on show on Monday 19th February. La Plagne (230cm/400cm) recorded 20cm of fresh snow to further improve the already fantastic conditions, which definitely makes it one of the best resorts to ski in at this moment. All of our featured French resorts in the Alps are forecast for sunny weather to start the week. In the French Pyrenees resorts it is a different story as the snow only started during Sunday night, continuing into Monday. Cauterets (120cm/240cm) and Bareges/La Mongie (120cm/150cm) both recorded 40cm and 30cm respectively. The French Pyrenee resorts have forecast the highest amount of fresh snowfall for the week ahead. Cauterets, Barages/La Mongie, and Font Romeu (140cm) have forecast big snowfall until Thursday 22nd February, with 83cm, 52cm and 23cm predicted respectively.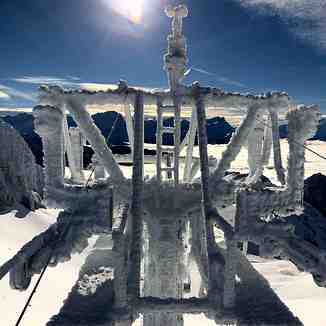 SWITZERLAND There was fresh snow for our featured Swiss resorts over the weekend, with the weather then clearing to allow for some great views on Monday 19th February. Samnaun (100cm/170cm) and Champery (100cm/350cm) both recorded 20cm of fresh snowfall during Sunday night/early hours of Monday. Other notable fresh snowfalls were recorded in Gstaad (30cm/200cm) and Verbier (85cm/360cm) with 15cm and 10cm respectively. The sunny weather won't last too long as more snow in the forecast. The neighbouring resorts of Grindelwad (10cm/239cm) and Wengen (31cm/166cm) are expecting roughly 12cm, whilst Murren (110cm/425cm) is hoping for around 6cm.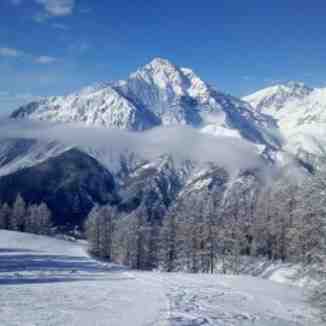 ITALY The past weekend saw light dustings recorded across a number of resorts across Italy, with only a few flakes not justifying a measurement coming over the Via Lattea, while La Thuile (75/300cm) saw 10cm, though no similar measurements for the rest of the Aosta valley. Elsewhere, resorts such as Passo Tonale (60/250cm) in the north saw around 5 cm falls, while the majority of the Sella Ronda measured between 5-10cm on Sunday. Cloud cover had eased off on Monday 19th, with only light clouds giving way to a predominantly sunny day and moderately cold weather, hovering between -5C and -10C for the most part. Good skiing is available across the country due to new snow from the latter part of the week and the weekend as resorts are in full spin for peak season. A new weather system developing may bring snow for both the Dolomite resorts as well as those in the Piedmont on Tuesday; though for the moment no significant snowfall is expected until at least Thursday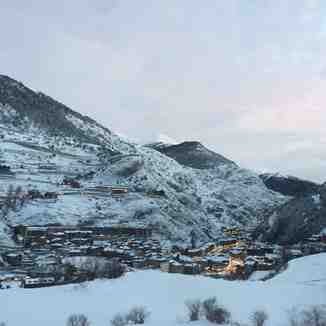 ANDORRA The Grandvalira area saw a 7cm dusting of snow over Sunday night into Monday the 19th with conditions remaining overcast and dull across the country. All lifts are open across the country, with pistes noticeably busier than usual especially near key lifts. The remainder of Monday and Tuesday were forecast to bring moderate snow, with the current cloud looking to stay in place for the remainder of the week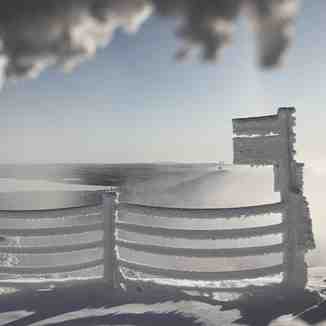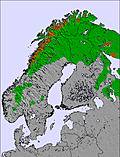 SCANDINAVIA Finland saw clear skies but bitterly cold temperatures on Monday 19th February, with the mercury dropping as low as -15 without any insulating cloud. Expect hard packed pistes as the forecast shows no snow on the horizon as far as the forecast goes. Are (92cm) and Salen (131cm) both saw light dustings over the weekend, though only a couple of cm a piece. The former was offering the more promising weather of the two, with somewhat warmer weather and sunny skies, while Salen was blanketed by light clouds and flat light. The coming Wednesday may bring light snow, while the rest of the week looks to be sunny but cold. In Norway, Oppdal (50/90cm) saw the smallest of dustings, 3cm fall over its otherwise hard pistes on Saturday. This being amongst the only new snow, alongside 3cm on the upper slopes of Lillehammer (60/219cm). Voss (90/260cm) once again continues to buck the trend across Scandinavia, with 40cm of snow since the start of the weekend, continuing the trend of near continuous snow for the past several weeks. Clouds dominate the skies on Monday, though mercifully preventing the temperatures dropping too far. As with the rest of the region, forecasts predominantly show clear skies bringing very low temperatures with only intermittent cloud until the following Monday.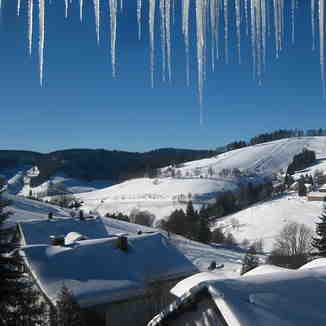 GERMANY Some German resorts saw light dustings of snow over the weekend. The exception is Oberstdorf (30/180cm) which saw 30cm fall on Sunday, offering great skiing that was only limited by poor visibility on Monday. There was also variable weather across the rest of our featured German resorts. Berchtesgaden (5/155cm) and Reit im Winkl (75/220cm) enjoyed bright sun, while others have limited visibility, while Garmisch Partenkirchen (235/395cm) saw a cloudy valley but bright sun on the upper slopes. The coming week looks set to continue the cloudy weather, with the possibility of snow on any one or more days for the remainder of the week.

EASTERN EUROPE There wasn't any fresh snow to report over the weekend in our featured Bulgarian resorts, but Monday 19th February was a cloudy day at the likes of Bansko (40/210cm), where snow is being forecast to fall throughout the coming week. Jasna (30/50cm), Slovakia, has improved conditions thanks to 8cm of fresh snow on the 19th February, whilst in Russia there is lovely piste skiing on the upper runs at Sochi (46/368cm).

SCOTLAND It was a fairly drab start to the week across Scotland, with cloud and drizzle reported across our featured resorts. Temperatures are now up to around +5C and the snow pack is fairly soft or wet as a result. Still, good skiing is available, but some patches of are starting to appear in places. The forecast is set to improve on Tuesday 19th February, with some nice clear skies predicted. Temperatures are expected to drop again, leading to the chance of some snow during the latter part of the week.

USA The past Friday and Saturday delivered substantial snowfall to some Utah based resorts, including 33cm over Snowbird (175cm), continuing the trend of improving mid-season conditions. More snow had already begun to fall by early morning on Monday and looks to continue to do so for much of the week. Predictions for Monday's accumulations are generally in the high teens, up to 20cm over Telluride (89/114cm) and 29cm over Steamboat (126/168cm)Resorts in California are in line for some welcome snow, with light snowfall of 5-10cm expected, with more due the rest of the week, most heavily on Thursday. Elsewhere, Timberline (249cm) saw a massive 41cm of snow on Sunday, the largest accumulation of several days of snow. Except deep powder alongside some cold temperatures. Sunday also delivered fresh powder to our featured New England resorts, delivering between 10-20cm of fresh snow. Monday saw rising temperatures and predominantly clear skies, sitting around -5C though continuing to rise. This does however risk delivering rain over Monday evening and Tuesday as the mercury continues to rise. By mid-week, many resorts are expecting spring like conditions as the mercury hits double digits.

CANADA The weekend bought yet more snow across the majority of Canadian resorts, with some highlights including 18cm in Fernie (330cm) on Saturday while Kimberley (136) )saw a huge 36cm, if you're looking to ride some deep powder, British Columbia is where to be. Monday the 19th delivered a mix of sun and cloud alongside very low temperatures, as far as -26C. Prepare to wrap up very warmly indeed when venturing out. Temperatures this low are also impacting night skiing operations in Big White (294cm). More snow is gradually expected to move in once again over the week, beginning Tuesday and becoming more consistent across all resorts over the week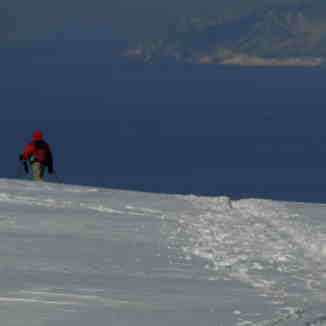 JAPAN Hakuba (140/420cm) saw 15cm over the weekend, though Niseko (245/515cm) continues to stand head and shoulders above, with 54cm recorded since Saturday and 155cm in the past week, with little sign of easing up, expect endless, deep powder skiing. Temperatures are at the lower end of the spectrum, around -7C to -10C. Niseko and Rusutsu (279cm) in particular are expecting another snow filled week.in particular are expecting another snow filled week.